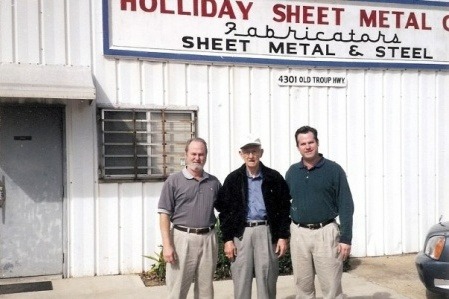 For over 65 years, Holliday Sheet Metal Company has provided East Texas and surrounding areas with custom sheet metal and steel fabrication and installation. This family-owned business was established in 1948 by Hubert Holliday and is currently owned by his son, Jack Holliday, who has managed the company for over 30 years. Jack's son, Sean Holliday, is the Vice President of Sales and has been with the company for 15 years. Even the sheet metal mechanics have worked at Holliday Sheet Metal for 10-20 years. All these years of experience have created a company known for its product quality and highly skilled labor. Holliday Sheet Metal has built a reputation for excellence that makes it the market leader in the East Texas area, maintaining long-standing relationships with major corporations such as Trane Heating and Air Conditioning and Brookshire Grocery Company.
Holliday Sheet Metal is the one-stop shop for both thin and heavy-gauge sheet metal jobs for industrial, commercial, and residential applications. Holliday Sheet Metal specializes in difficult-to-design, one-of-a-kind products made out of galvanized, carbon, or stainless steel, as well as aluminum and copper. Holliday Sheet Metal can shear and form heavy steel and thin sheet metal, produce flashing of any kind, and create any number of other products such as machine guards, boxes, cabinets, and covers. So when you think metal, think Holliday Sheet Metal to get the job done right.
We purchase the best grade of material, maintain our equipment in good working order, and purchase new equipment, as needed, to deliver the highest quality products to our customers.
We train our employees in the skills and safety necessary to perform the work of the company. We pay our employees a competitive wage and provide health insurance and a pension plan with the intention of maintaining a long and mutually beneficial association.
We are committed to maintaining long-term relationships with our customers by performing work to their satisfaction in a timely and professional manner.